At TMC, You Don't Just Make a Living. You Make a Difference.
When you join the TMC team, you'll be working for something greater than just a company. We believe that the value of a life is always measured by how much is given away. This is why giving back will be at the core of everything you do.
Our company's commitment to giving back extends to our interaction with employees, too. At TMC, you can choose to work in a variety of settings based on your passion. We also provide opportunities for personal and professional growth and advancement. You'll also benefit from our commitment to helping you enhance your skills and remain current with new regulations and technology. As part of the TMC family, you'll have all the tools, education, and resources you need to achieve excellence on a daily basis.
It's not what we do, it's why we do it.
TMC was founded to provide patients with quality care, and clinicians with opportunity, respect, and a sense of purpose. Hear from our CEO and Founder, Dreama Waldrop, as she tells the story of why she started TMC, and how that purpose has carried through for more than 20 years.
Excellence In Action
At TMC, we love seeing the numerous ways our teams serve their communities. Here are just some of the "All In" moments from this year!
Our team member Alexa in Warrensburg, MO was playing Christmas songs while one of our patients sang along... until the patient decided she wanted to play too!
Since one of our Texas facilities doesn't have a beautician in the building, Kenny, one of our PTAs, takes time during his breaks to give some love to the patients by cutting their hair!
Our Texas and West Coast Teams took the time to lend their support to Pop-up Comfort Dallas, an organization that supports the homeless and families in-need in the Dallas / Fort Worth areas.
Heather, COTA in Springfield, MO made 2-inch wooden tile letters in therapy so the residents with low vision will be able to play Scrabble. Sometimes it's the little things that make the biggest difference!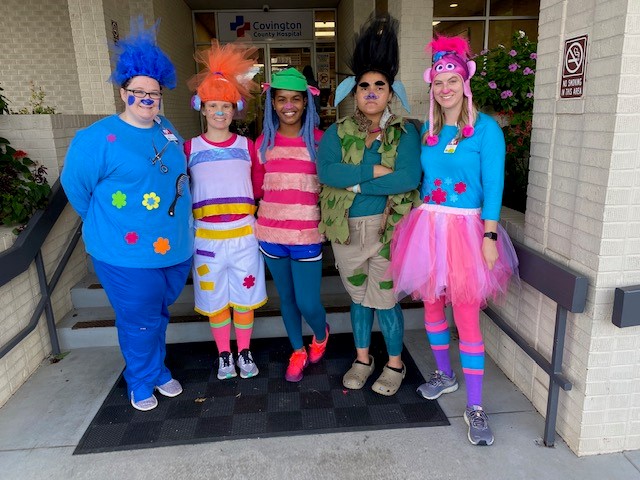 The "Trolls" of Collins, MS "Can't Stop the Feeling" they have about their patients and therapy services! This amazing team took home the facility prize for Best Group Costume during their Fall Festival.